Bezalkoholowe IPA and Żywe Beer came up trumps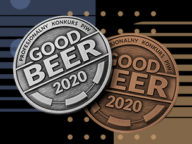 We have good news! This year we come back from Good Beer 2020 with two medals. The jury awarded our Bezalkoholowe IPA and Żywe Beer with silver and bronze discs respectively.
Despite strong competition, professional judges appreciated the quality of our beers. Bezalkoholowe IPA received silver in the Non-alcoholic beer category, and Żywe beer – bronze in the pale strong lager category. This is another such award for Żywe beer, our most famous and titled beer. The jurors assessed the following parameters in 16 categories: taste, appearance, aroma, bitterness and general impression.
Good Beer is an independent competition open to the entire brewing industry, both craft and regional breweries, as well as industrial breweries. Every year, Polish beer producers and distributors compete in over a dozen categories, competing for Good Beer medals. Their products are assessed by a jury composed of experienced beer judges.