Successfully at the Chmielaki Krasnostawskie festival!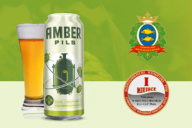 Chmielaki Krasnostawskie is the oldest beer festival in Poland. As every year, we were there to present our beers to festival goers, but also to the honorable jury in the Consumer Beer Competition. And it happened!
Amber Pils Beer and Russian Imperial Stout from the Po Godzinach (After Hours) series won awards in the prestigious Consumer Beer Competition during the National Festival of Hops and Brewers "Chmielaki Krasnostawskie" 2018.
Chmielaki is the oldest beer festival in Poland and one of the most important events of this type, setting trends and setting the tone for similar events. In the 48th edition of the competition, we won three awards in very important categories:
Pils style pale beers with 11.1-12.9° Plato extract;
Imperial Stout style beers with an extract above 18° Plato.

Thus, Amber Pils Beer was nominated for the "Beer of the Year" title awarded by the Society for the Promotion of Beer Culture "Bractwo Piwne".