The world appreciates our RIS!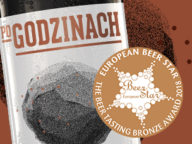 Our Russian Imperial Stout is appreciated again! This time on the international arena during the prestigious European Beer Star (EBS) competition organized in Munich.
Our Russian Imperial Stout was awarded a bronze in the Imperial Stout category out of almost 2,500 beers. It is a great distinction and appreciation, the more so as the beer is assessed by a jury composed of several dozen experts from all over the world, and none of the tasters can judge beers from the country it comes from. After RIS won the title during this year's 12th KPR Craft of the Year Craft Beers Competition, it was time to evaluate outside Poland. We are very happy, we feel satisfaction and we are not slowing down at the end of 2018, which is full of successes!
EBS is one of the most important beer competitions in the world. It has been organized since 2004, and this year's 15th edition has brought the greatest numbers so far:
beers from 51 countries were submitted to the competition,
beers from 26 countries were awarded,
a total of 2,433 beers were rated in the competition.