Title: Beer of the Year 2011 for Grand Imperial Porter and Koźlak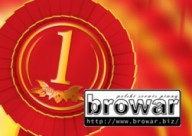 The best beers of 2011 were selected in the plebiscite of the browar.biz portal.
We are pleased to announce that our GRAND IMPERIAL PORTER was awarded for the 4th time in a row as the best Polish porter. Our KOŹLAK was once again the best Polish dark bottom-fermented beer. Thank you to voters and we wish you all enjoy!