Two medals during Golden Beer Poland 2015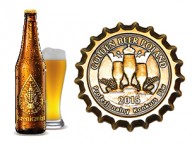 We are happy to announce that Amber Wheat and Grand Imperial Porter received medals during the Golden Beer Poland competition, which was held on the occasion of the 5th International Brewers' Forum.
The mission of the competition is to promote beer and the broadly understood beer culture. The aim is to identify the most valuable and stylish beers available on the Polish market.
The Golden Beer Poland competition is open to all breweries with no production restrictions, the categories cover the entire beer market. In this year's edition, 154 beers were assessed in 15 competition categories.
Amber Wheat received a gold medal in the wheat beers category. The award is all the more pleasing as 21 other wheat beers competed for the title. Grand Imperial Porter is one of our most successful beers. It was awarded a silver medal in the Golden Beer Poland competition.
We are glad that the result of the beer revolution, which we initiated together with other breweries several years ago, is the development of the beer segment for more demanding customers. Congratulations to our brewers and competitors.