We have gold and silver!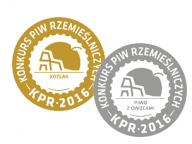 Our Koźlak and Apple Wheat among the winners of the 10th edition of the Craft Beer Competition. It is the largest craft beer competition in Poland. As many as 83 breweries were entered into the competition – in total 324 beers were submitted for evaluation in 30 categories.
Koźlak is a dark, ruby ​​bock-style beer with an intense flavor with hints of malt and caramel and a delicate bitterness. In its category, it was awarded 1st place and a gold medal. It is a special honor for us, because Koźlak has been present on the market for 13 years.
Apple Wheat, which took second place and received a silver medal, is a beer from our latest craft series Po Godzinach (After Hours). These are original interpretations of selected beer styles. Each presented style is brewed in the amount of 200 hectoliters. Apple Wheat is a refreshing and aromatic combination of beer and apple juice. Pressed juice from Polish apples was added to the beer at the maturing stage, which means that it was completely fermented, which distinguishes our Apple Wheat from popular beers with the addition of juice.
The 10th jubilee edition of the Craft Beer Competition – Craft of the Year 2016 was held on November 4-6 during the Poznań Beer Fair. An international jury of 30 experienced judges from Poland, the Netherlands, Germany, Portugal and Great Britain selected the best beers in each category and the best beer in the entire Competition – Craft of the Year 2016.
Only beers whose annual production does not exceed 5,000 hectoliters were allowed to participate in the competition, and the brewers are known by their first and last names. Roman Kotlewski and Paweł Kozica are responsible for our medal productions. Congratulations to all winners.