Amber Wheat and Grand Imperial Porter win at Chmielaki Krasnostawskie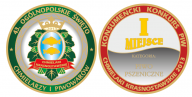 It is the largest consumer beer competition in Poland, organized for over 20 years.
The task was not easy. 180 beers from 29 breweries entered the competition.
Amber Wheat took first place in the category: Wheat beer, while Grand Imperial Porter in the category: Strong dark beer with an extract content in the wort above 18.1ºBLG.
We are very happy with the double win, the more so that the competition was strong in the category of wheat and dark beers above 18.1ºBLG. It is our motivation to continue working and to care for the highest quality of our beers. Chmielaki Krasnostawskie attracts enthusiasts of the golden drink every year.