Another success of Amber Wheat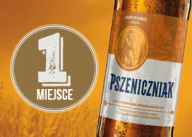 Our Amber Wheat won the first place in the Wheat beers category (Hefeweizen) in the competition organized during the Regional Beer and Brewing Fair "Piwowary" in Łódź.
Piwowary – is a meeting of specialists in the field of brewing and fans of the golden drink. Representatives of regional and craft breweries present on the Polish market were invited to participate in the fair. Beer lovers could learn how to build their own brewery and start production. Brewing installations and beer raw materials were presented. The whole was accompanied by lectures and training. 600 kinds of beers waited for lovers of good beer.
1st place in the "Piwowary" plebiscite is another distinction for our Amber Wheat. Thank you!