We are in The Yellow Guide Gault & Millau Polska 2017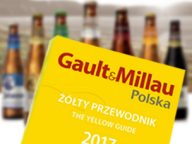 We are very pleased to announce that our beers are included in the elite group of 160 creators of the best regional products in Poland.
The Yellow Guide Gault & Millau is one of the most prestigious guides in the catering industry in the world. Its history dates back to 1961, when Henri Gault and Christian Millau began to describe their wandering around Paris restaurants in the pages of the Paris-Presse newspaper. The weekly reviews have become very popular, and their authors have decided to publish a few Paris guides.
A few years later, their first French restaurant guide appeared on the market. Currently, guides are published in Austria, Switzerland, Belgium, Luxembourg, the Netherlands, Germany, Australia, Hungary, and also in Poland. The Yellow Guide Gault & Millau is, next to the Michelin Guide, the most opinion-forming culinary guide in the world.
The authors of the Yellow Guide follow very strict criteria. The grading system is based solely on the quality of the products. Anonymous inspectors who are bound by special ethical codes take part in the project. Thousands of tastings are carried out. There are no fees for inclusion in the guide, which guarantees the objectivity of the assessments.
"We are convinced that you shape the culinary heritage of the country with your products," we read in the congratulatory letter.
Thank you for this extraordinary award!