Amber Brewery is the best medium-size brewery in Poland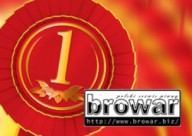 Internet users chose their favorite beers and the best breweries. The Amber Brewery took the highest position among medium-sized breweries.
We know the results of this year's plebiscite organized by the browar.biz beer fan portal. The Amber Brewery took the highest position among medium-sized breweries.
The plebiscite has been organized for eleven years. This year, over 1,300 beers were submitted to the competition. This is 10% more than last year. The beers were divided into 15 categories by species. Additionally, the following titles were awarded: Beer of the Year, Debut of the Year and Brewery of the Year.
Additional distinctions are due to individual brands of beers brewed in the Amber Brewery. The Pomeranian brewery produces three of the five best Polish beers in the medium-sized brewery category: Koźlak, Amber Wheat and Grand Imperial Porter. Piwo Żywe, highly ranked in the poll, is also noteworthy. It is one of the most successful Polish beers and has been known to beer lovers for 10 years.
"Despite many novelties from small and craft breweries that appear on the Polish market, our beers occupy leading positions each year. Thank you for your trust and we are glad that our work has been noticed and distinguished once again." – Amber Brewery employees modestly comment on the success.
This year the Amber Brewery celebrates its 20th anniversary. During this time, it achieved and maintained the position of one of the best regional breweries in Poland. This is evidenced by the huge market success and numerous awards and distinctions awarded by both experts and consumers.
The browar.biz portal brings together beer lovers. The plebiscite for the best beer and the best brewery enjoys unflagging popularity.