DIPA won gold!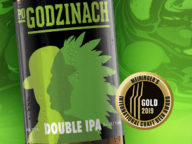 Our Double IPA from the Po Godzinach (After Hours) series won a gold medal at the prestigious Meininger's International Craft Beer Award 2019 in the Imperial IPA category.
During this year's fifth edition, 90 judges (brewers, beer sommeliers and sensory experts) from 13 different countries tested a total of 74 beer styles. The main goal of the competition is to offer consumers a dose of knowledge and guidance that will help them navigate the ever-growing and changing market for craft and specialty beers. Therefore, the jury once again decided to award no more than 30% of the submitted beers. In this way, year after year, the results of the competition show the best beers on the market and create a reliable guide for the consumer.
It is all the greater an honor for us that our Double IPA was included in this narrow group. And that's with gold in its category!