Śliwka na Bocku wins a medal in the KPR 2019 competition!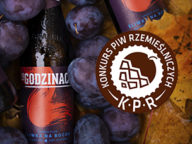 Śliwka na Bocku wins a medal in the Craft Beer Competition 2019!
This podium is not surprising. Our favorite from the Po Godzinach (After Hours) series was awarded a bronze medal in the Smoke Beer category. It is the fifth beer of the Amber Brewery, which has received an award in the KPR since its launch in 2016.
The Craft Beer Competition has been organized for 12 years. It is the largest and constantly developing beer competition in Poland and one of the most important in Europe. This year, as many as 615 beers were submitted to the competition, which were judged by as many as 50 organizing and judging teams from Poland, Panama, the USA, Czech Republic, Lithuania, Slovakia, Italy, Bulgaria and Spain. The chairman of the jury was Tomasz Kopyra.
Śliwka na Bocku had its premiere in November this year. Its base is our award-winning Koźlak, and the aromas of autumn have been given to it by Suska Sechlońska, which is a showcase of this season as well as Polish cuisine. Where else in the world are smoked fruit known in traditional cuisine?
We owe the strong start of the beer and the award almost immediately after the premiere to the work of our brewers: Paweł Kozica and Roman Kotlewski. Thank you and the entire team of KPR! See you next year!