The title of the best medium-sized brewery for the Amber Brewery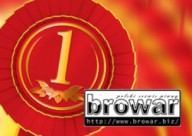 Favorite beers and the best breweries in Poland were chosen by users of Browar.biz. We are pleased to announce that the Amber Brewery once again took the highest position among medium-sized breweries.
The Żywe was ranked 3rd among pale, strong bottom-fermented beers (246 beers were reported in this category), while Koźlak was ranked 2nd on the list of dark, bottom-fermented beers, out of 101 beers reported in this category.
Additional awards were given to our brands: Koźlak, Grand Imperial Porter and Amber Wheat. All of them were included in the top 5 of the best beers in the medium brewery category.
Browar.biz is a portal bringing together beer lovers. The plebiscite, in which users chose their favorite beer brands and breweries, was organized for the 12th time.
"The aim of the project is to assess the efforts of brewers brewing delicious, extraordinary beers and pay tribute to the breweries and their employees for their efforts to provide beer lovers with great joy for the spirit and taste buds" – we read on the competition organizers' website.
2,031 beers from 115 breweries were submitted to this year's edition. The beers were divided into 15 categories by species. Additionally, the following titles were awarded: Beer of the Year, Debut of the Year and Brewery of the Year.
The plebiscite is becoming more and more popular every year. This year, over 50% more beers were submitted to the competition than last year. This is the effect of the fashion for niche, regional products.
We would like to thank everyone for the votes cast in the poll and for the trust you have placed in us.